Wearing the Fog
Double Screen Video Installation
Duration : 13 mins 38 seconds
April, 2016

'Wearing the Fog' is a double-screen video with a non-linear narrative structure. it circles around the cold of the industrial world and the indifference of a family. The video consists of multiple narratives that are told in a non-linear fashion. The way that I approached it was to put two cameras in my home to record my family as well myself. I wanted myself to be involved in this experience and these moments. I was the director and one of the characters.

The work focuses on a family living in a city whose industry is developing rather rapidly. Inside of the family, it is full of indifference, confrontation and estrangement. Due to the lack of administrative control, air pollution is very serious in this city. In daily life, people have to communicate with each other through the obstruction of gauze mask and fog. This kind of interaction disrupts the possibility of real contact. I mix the feeling towards this severe reality and the understanding towards family life to show the gap between two generations, the estrangement between the father and the mother and the clash between individual and social development, all of which is enhanced and manifested through the use of double-screen.



Image courtesy of Bergen kunsthall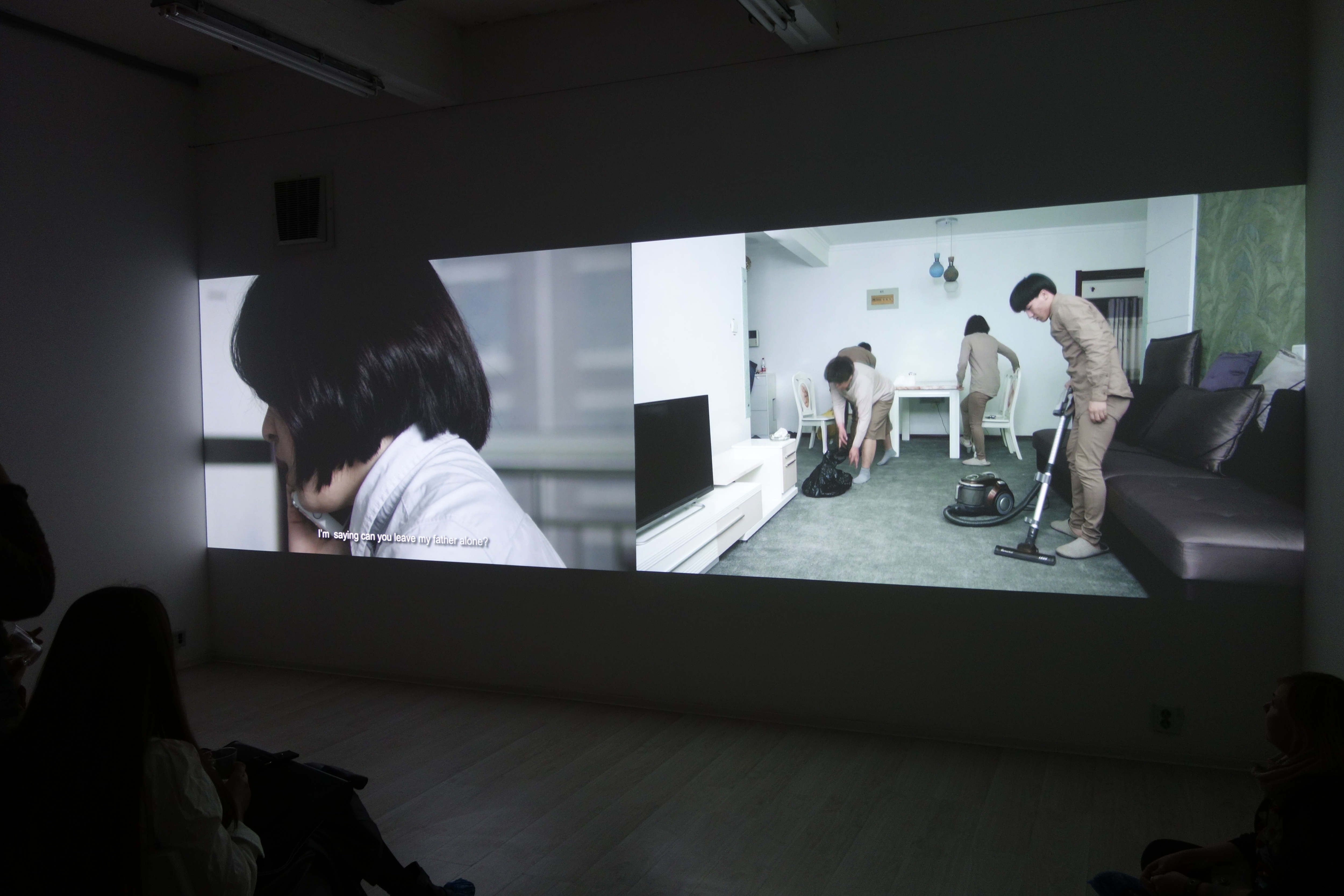 Image courtesy of Ч9 gallery

In 2016, "Wearing the fog" won :
The Best Experimental Film ,The Broadway Film Festival, New York
The Best Fine Art Film, Open Art Short Film Festival, Germany
Official Selection,Short Film Festival Diessen am Ammersee, Germany
Official Selection, Split Film Festival / International Festival of New Film, Croatia
Honorable Mention, South Taiwan Film Festival
Official Selection,Venice Film Week, Italy
Semi-Finalist,Los Angeles CineFest, America.
Honorable Mention, The First International Film Festival, China
The 3rd prize, CAFA Agnès Varda Visual Festival, China
Official Selection, Lisbon International Film Festival 2016, Portugal
Official Selection, The Moonrise Film Festival 2016 wells, Canada
Honorary Mentions, The Largo Film Awards 2016 Award, June edition.